NC Hydraulic Press Brake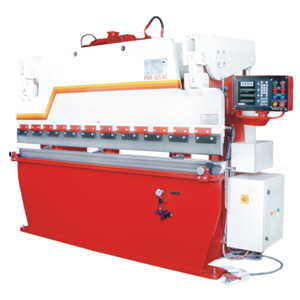 NC Hydraulic Press Brake
NC hydraulic Press brakes are economical and very reliable solution for industry demand. NC hydraulic press brakes are designed to give more accuracy and better productivity. The controller has a facility to program the various jobs with complex bending sequence on screen.
The Numeric Control is used for Two Axis Control,
1. Ram Axis Y 2. Back Gauge Axis X.
The program gives facility to bend different bending degrees; different back gauge positions & different open positions. It has a facility to save different programs and same can be reloaded as & when required. The back gauge consists of Flip-top Fingers, Ball Screw & Linear Bearing along with drive.